SHA.TIFF presents


LADIES NIGHT: XO TO THE LADIES: PINK BELAIRE EDITION
Friday, June 21st 10:00pm – 2:00am
Bleu Detroit | 1540 Woodward Ave, Detroit, MI 48226

HOSTED BY:
SHA.TIFF | TATUM BLEU
CO-HOSTED BY:
@PREZZYPREZ_TEEJAY | @PK_PRETTY_KITTY | EASTSIDETAE | INDIA_MULAAAA | @CHRISTIAN_BALLIN
DJ DMACK 313RD W/ MB TAYDOE PERFORMING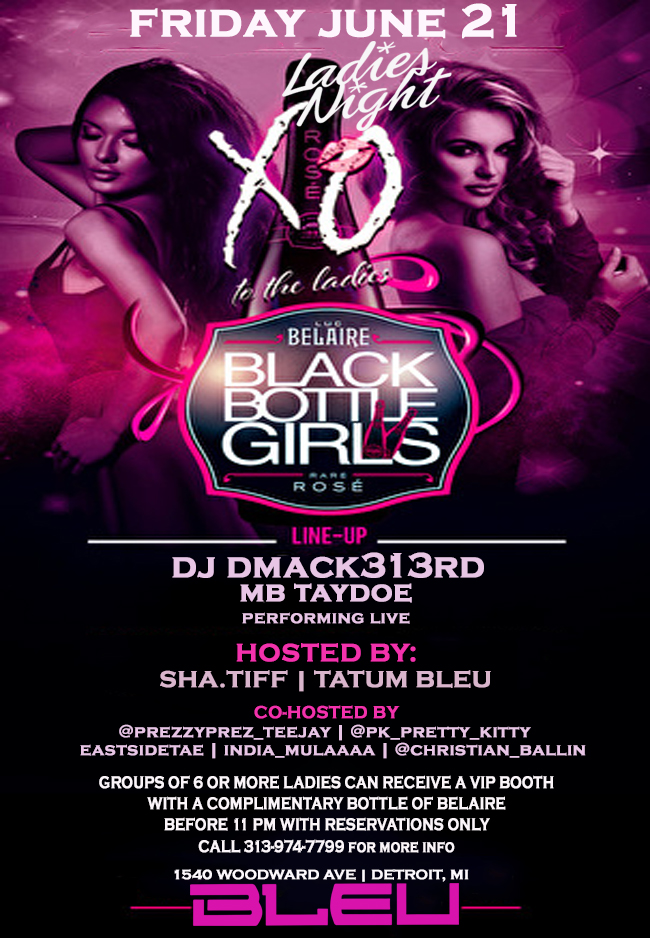 GROUPS OF 6 OR MORE LADIES CAN RECEIVE A VIP BOOTH WITH A COMPLIMENTARY BOTTLE OF BELAIRE BEFORE 11 PM WITH RESERVATIONS ONLY. CALL 313-974-7799 FOR MORE INFO

INCREDIBLE VIP PACKAGE DEALS! 
RESERVATIONS:

VIP Bottle Service 
Birthdays | Bachelor/ette | Special Occasion

Call: (313) 974-7799
Email: [email protected]

DETAILS:

*Valet Parking Available 

Dance into the night with amazing music from our featured artist's on the city's best sound system, surrounded by our beautiful dancers and served by the best bar staff.

We look forward to having you as our guest. 

BLEUDETROIT.com
www.facebook.com/bleudetroitofficial
www.twitter.com/bleudetroit
www.instagram.com/bleudetroit/

Add us on #SnapChat "BleuDetroit313"

Don't Hear About It. Experience It.